Alto now works with a range of partners, giving you the chance to customise your CRM to best suit your needs.
You can view the partners currently offering integration with Alto in the Alto marketplace.
This article includes:
What is the Alto marketplace and where can I find it?
The Alto marketplace is the home of all our integration products. To access it:
Click Tools on the

main toolbar
In the dropdown menu, click

Integrations
Here, you can browse and choose between a range of existing integration partners that are Available, and those that are Coming Soon, without leaving Alto.
Broken down across various Categories, you can enhance your Alto experience by integrating Alto with any products you may already use, or register your interest in any you don't, that might benefit your needs or circumstances.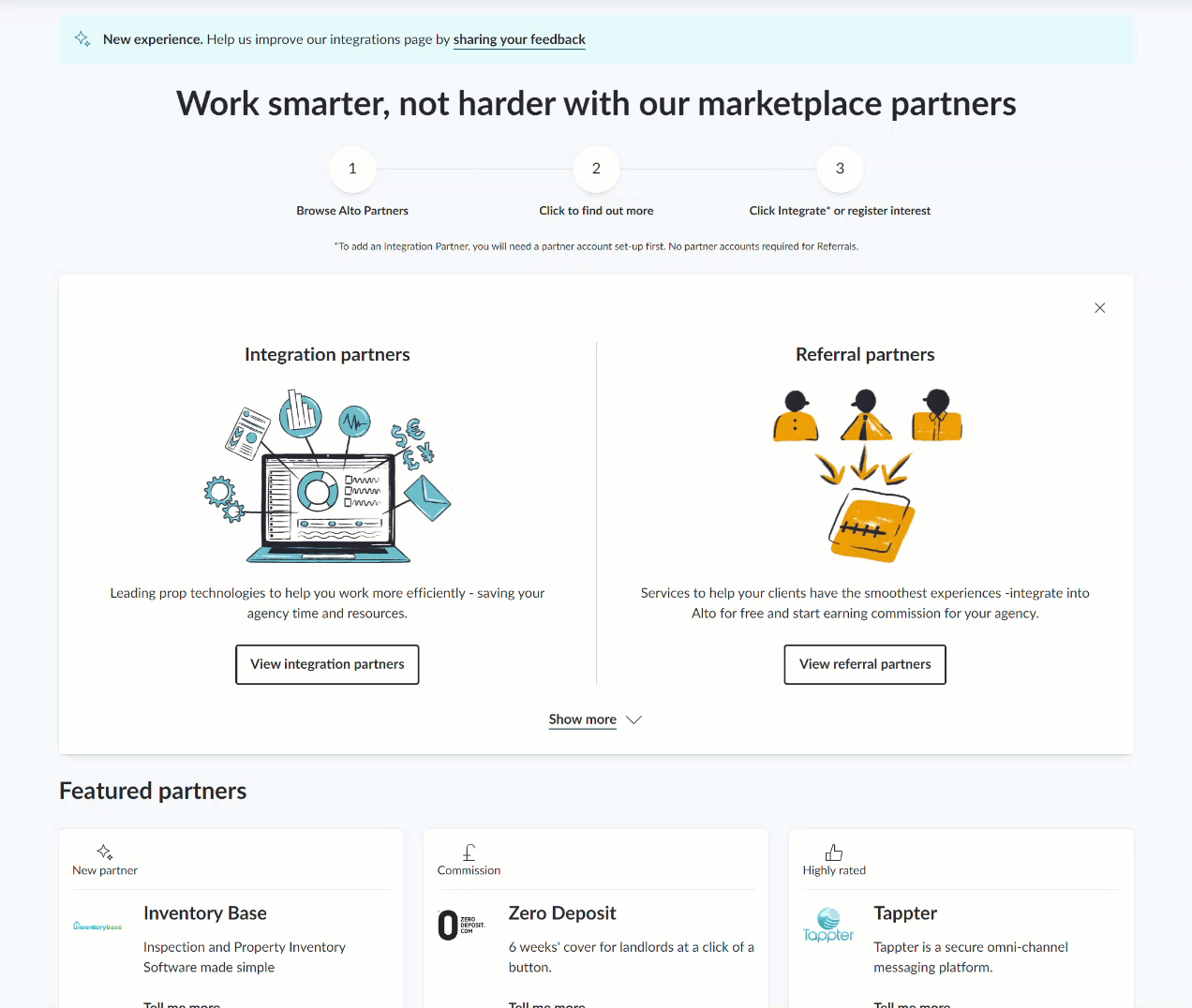 Should you click Tell me more, you can view a description of what the partners integration offers, view the Benefits of using it, as well as view the partners website for additional information.
Note
If there are partners you currently use which aren't on the integrations list, you can click Request an integration to let us know. We're always looking to add new partners and we welcome any feedback as to what you'd like to see and use with Alto!
Why should I use an integration?
We offer a variety of different integrations that are designed to make life easier for you as an agent and which also enhance your offerings to your customers. These integrations are products we know some of our agents already use, and by connecting them to Alto, you can save time by removing the need to manually input information twice across different systems.
How do I activate an integration?
Once you've decided on an integration that you'd like to use from within the Alto marketplace, you can activate it yourself, gaining instant access to new functionality:
Click Tell me more under the relevant integration


If you're an existing customer with the partner and want to integrate your account with Alto, click Integrate xxxx. Depending on the partner, you might be asked for a Customer ID/API key (which they can provide if you don't know it), or, you may be able to click Integrate straight away at which point your request will be sent

If you're a new customer wanting to get set up with the partner, click Register interest to get started. Then, complete the short form and click Submit. The partner will then contact you with more information as soon as possible
Related articles: