Alto makes it easy for you to manage the progression of a sale/property purchase.
The Progressions tab provides you with a list of all your sales in progression, and from there you can manage each individual sale via the use of progression tasks that are to be followed, until such time as the sale has completed.
During the progression, any progress made can be shared in real-time with your buyers and sellers via PropertyFile.
This article includes:
What are the benefits of property sales progression
Customise milestones - Add your own unique and custom tasks to individual sales with a simple sales progression checklist
Track progress and issues - Complete milestones and identify delays or problems before they occur. Plus, record all communications in one central repository for a full audit trail
Communicate in seconds - Create, manage and view sales chains visually, send progression updates via SMS or email to everybody involved in the sale, and produce all important letters and invoices automatically
Keep vendors up to date - Easily share sales progression updates with vendors through their own PropertyFile account, via the Vendor Portal
Group your contacts - Group sales progression by conveyancer (solicitor) to save time and get all your answers in one phone call
How to access a sale progression
There are two ways you can access the progression of a sale:
From Progressions:
Click Progressions on the main toolbar
Click All Sales on the side menu

You can filter the sales by Status, Property Branch or Negotiator if you need to narrow down the number of sales listed

Click the relevant sale from the list
From Properties (i.e. the property record):
Click Properties on the main toolbar
Select the relevant property from Recent & Favourite Properties

Alternatively, find the property using the Search Properties bar in the top right

Click Actions
In the dropdown menu, click Sales Progression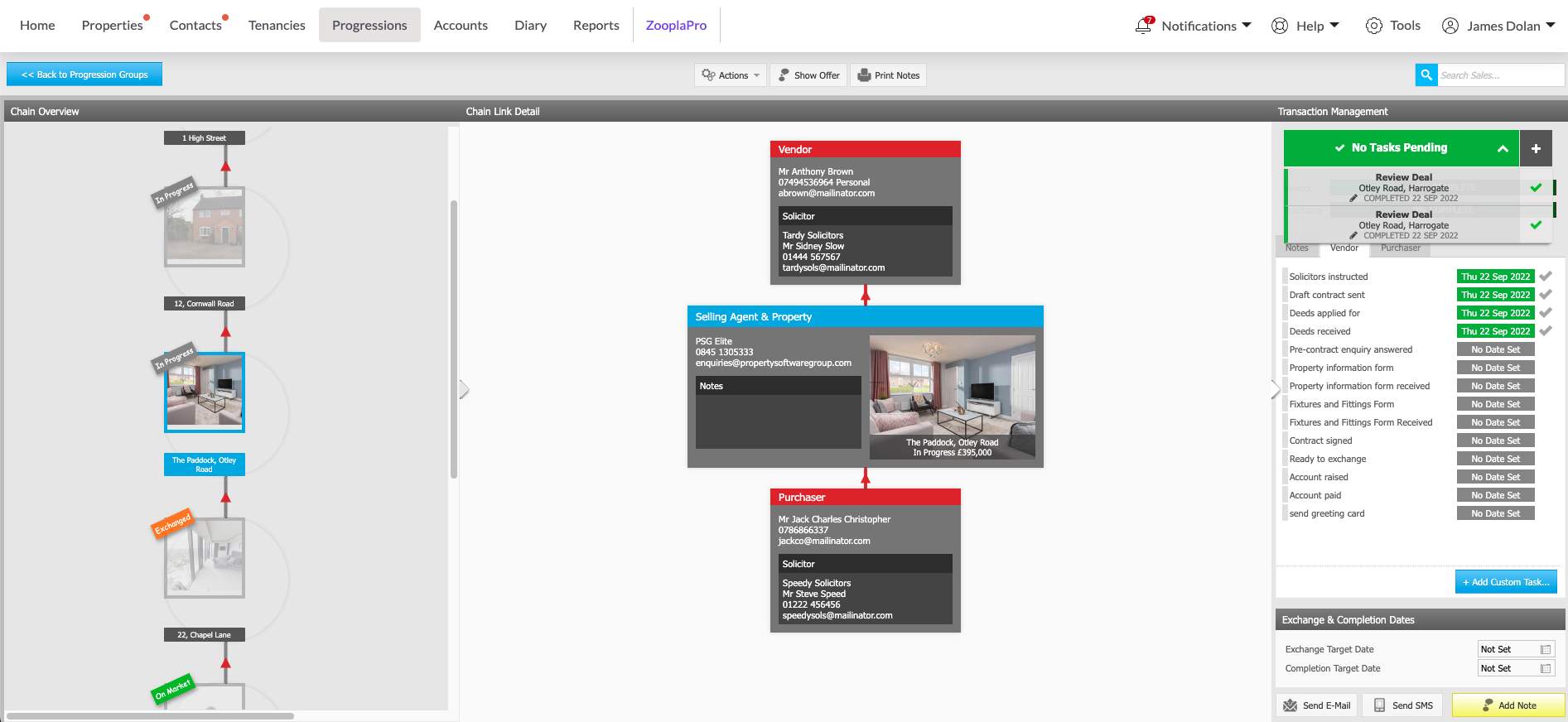 For more information on Progressing a sale, click here.
(Progressing a sale can involve many actions, and so this article acts as a process walkthrough and links out to the relevant articles)