The Critical Dates Not Set report allows you to create a list of your properties that are missing certificates that you have marked as Critical, i.e. Gas safety certificates and Electrical safety certificates. Suppliers will also be listed where no indemnity insurance has been recorded against the supplier's contact record.
The report can be used to ensure that all property and supplier critical event date types are dealt with, or, for bringing the outstanding critical event dates to the attention of the relevant company or individual.
To create your Critical Dates Not Set report:
Click Reports on the main toolbar
Click Property Management in the side menu under Reporting Groups
Click Critical Dates Not Set under Property Management Reports
You can select from several Report Options under Your Report to filter by:

Order - (Event Type, Contact/Property/Tenancy, and Management Type)
Direction
Group - (Event Type, Contact/Property/Tenancy, Branch and Negotiator)
Record Type - (Tenancy, Property, Contact, and Supplier)

The report can be further filtered using the additional tabs under Your Report, such as by branch or any of the Report Columns
Click Create Report to generate a one off report

You can also Export the report into a .pdf, Excel or .csv document if you prefer to view it in an alternative format
For more information on Exporting reports, click here

The report will automatically open in a new browser tab once created

It'll also be available within your Report requests, allowing you to open it later should you wish. Click Open to open the report or Clear to remove it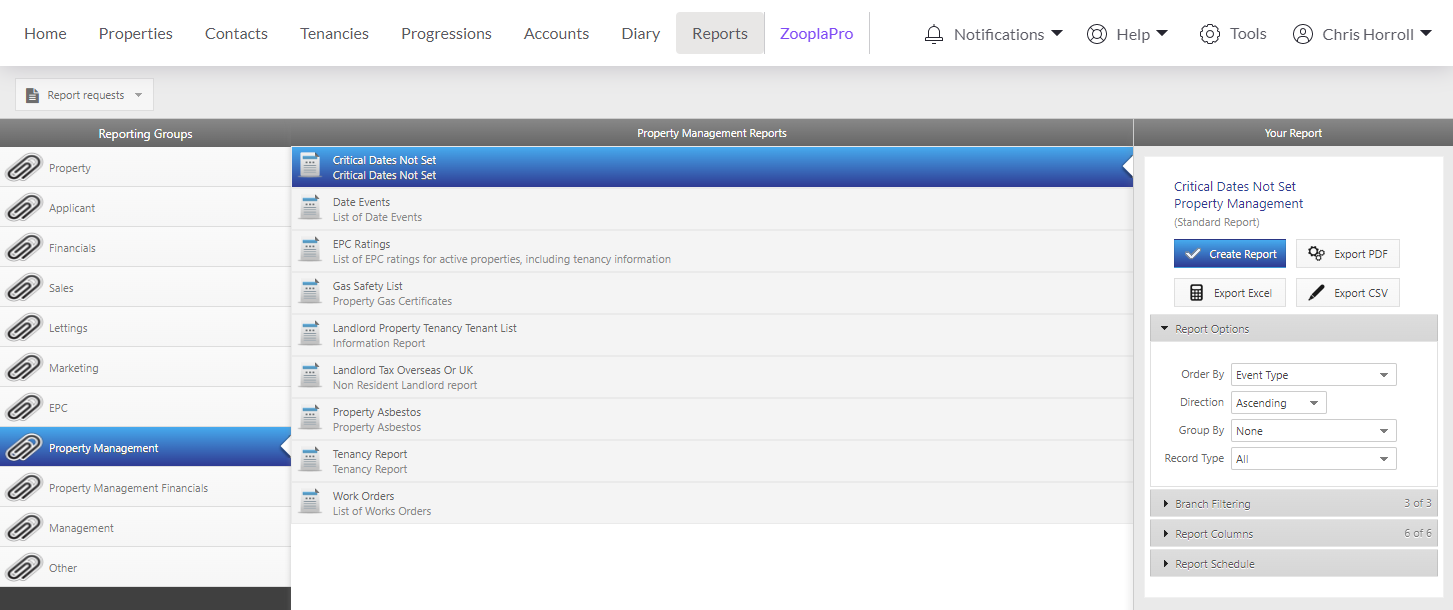 The Critical Dates Not Set report shows the following information:
Event Type
Contact/Property/Tenancy
Property/Tenancy Status
Management Type
Branch
Negotiator
You can schedule the report to be automatically generated by Alto and sent via email to selected users.
Related articles: