A refund of monies held can be carried out on any tenancy. It can either be a full refund of money, or part of the money held.
Depending on how you process your payments, the refund can be paid by direct transfer to the tenants bank account (Internet) or added to a BACS Payment File for uploading to the bank.
Note
This is only applicable if Monies Held is still on the Receipt screen for the tenancy and has not been used against a charge
This article includes:
Add tenants bank details
If the tenant has provided you with their bank account details, these are added to the tenants Contact record, via the Bank Details top tab.
For more information on Adding tenant bank details, click here
Part or full refund of monies held
Click Tenancy on the main toolbar

Select the relevant tenancy from

Recent & Favourite Tenancies

Alternatively, find the tenancy using the

Search Tenancies

bar in the top right

Click Actions
Within the dropdown menu, click Refund
The Refunds For This Tenancy window opens

Refund Date - You can edit the date for the refund
Refund Type - From the dropdown, you can select your preferred payment type
Send Refund - You can tick this if you want to send a remittance advice to your tenant via their preferred delivery method
Refund Monies Held - If you tick this, you can then enter the amount you want to refund in Monies Held to Refund. This can be the full amount or part amount
Click Update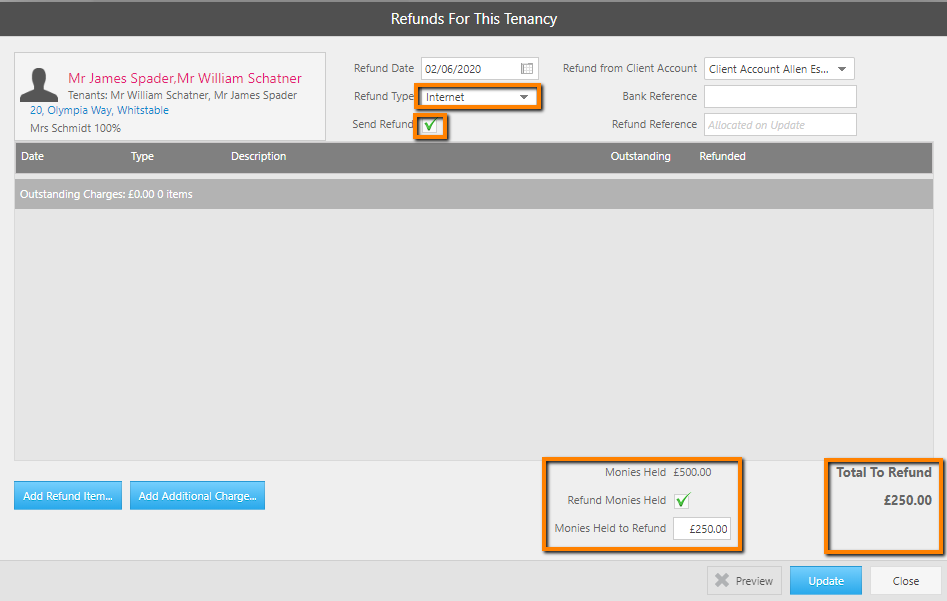 Which Refund Type?
If Internet is selected as the Refund Type, after you click Update, the Total to Refund appears as a debit in your Bank Reconciliation
For more information on Bank Reconciliation, click here
If BACS is selected as the Refund Type, after you click Update, the Total to Refund appears in your BACS Payment Update, ready to process the next time you create a BACS Payment File
For more information on Making payments via BACS, click here