You can receipt money on a tenancy record and allocate it to an outstanding charge. To do this:
Click Tenancy on the main toolbar

Select the relevant tenancy from

Recent & Favourite Tenancies

Alternatively, find the tenancy using the Search Tenancies bar in the top right

Click Actions
Within the dropdown menu, click Receipt
The Receipt from this tenancy window opens

Receipt Date - You can edit the date on which payment was received
Receipt Type - You can change this to the correct payment method from the dropdown menu
Bank Reference - If someone outside of the tenancy has made the payment, add their name
Receive into Bank Account - You can edit the bank account using the dropdown menu, if required
Amount Received - Enter the total amount you received.

The system will automatically allocate the money against the oldest charge first. If you wish to change how the system is allocating the money, you will need to tick/untick the

Allocate?

boxes

Send Receipt - You can tick this if you want a copy sent to your tenant(s) by their preferred delivery type. When this is selected, you can click Preview

Click Update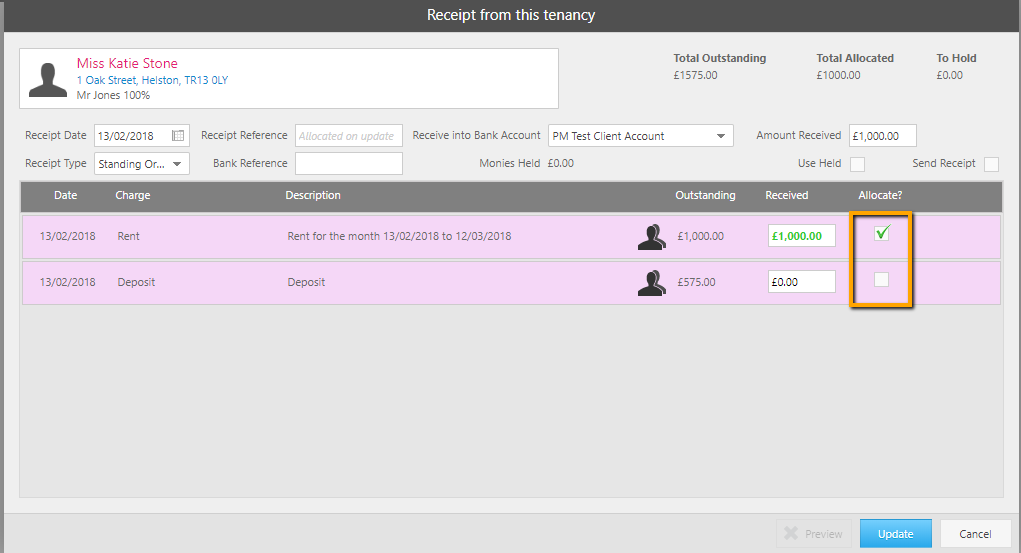 A record of the receipt is made available to view in the tenancy, available from within the Timeline on the side menu. It's also recorded from within Transactions on the side menu.
Note
You may see a warning message if the tenancy is proposed, when allocating the money to a rent charge. You can still allocate the money, but this will be payable to the landlord straight away
You may see a warning message if the deposit being receipted is more than permitted by the legislation
If the amount entered in Amount Received is greater than the total Outstanding charges, a warning message will appear