When a landlord has just been added, or for an existing landlord already on Alto, you are able to add a new property to their record.
To add a new property to an existing landlord record:
Click Properties on the main toolbar

Use the

Search Properties

bar in the top right t

o check if the property record already exists in Alto.
If it doesn't:
The Add a Property page opens. Within the Find an existing contact field, enter a name, address, email or phone number to find the relevant landlord. Then, click Search contacts
Select the relevant landlord from the list below, and click Use selected contact 
Click Add a new address
Enter the Full UK postcode, select the Address and click Look up property.
If we cannot locate the address or postcode via the Look up property option, you have the option to enter details manually
With the property looked up, you can now review the Address and Enquiry Type details, the Property Details, and the Energy Efficiency Rating. Any of these details can be amended, and more details entered if you click the relevant Edit section option
(For example, you might want to make corrections if work has been carried out to change a 3 bedroom property into a 4 bedroom property)
In the Notes section, enter any Appraiser notes as you see fit
Once you've reviewed all the details, click Save property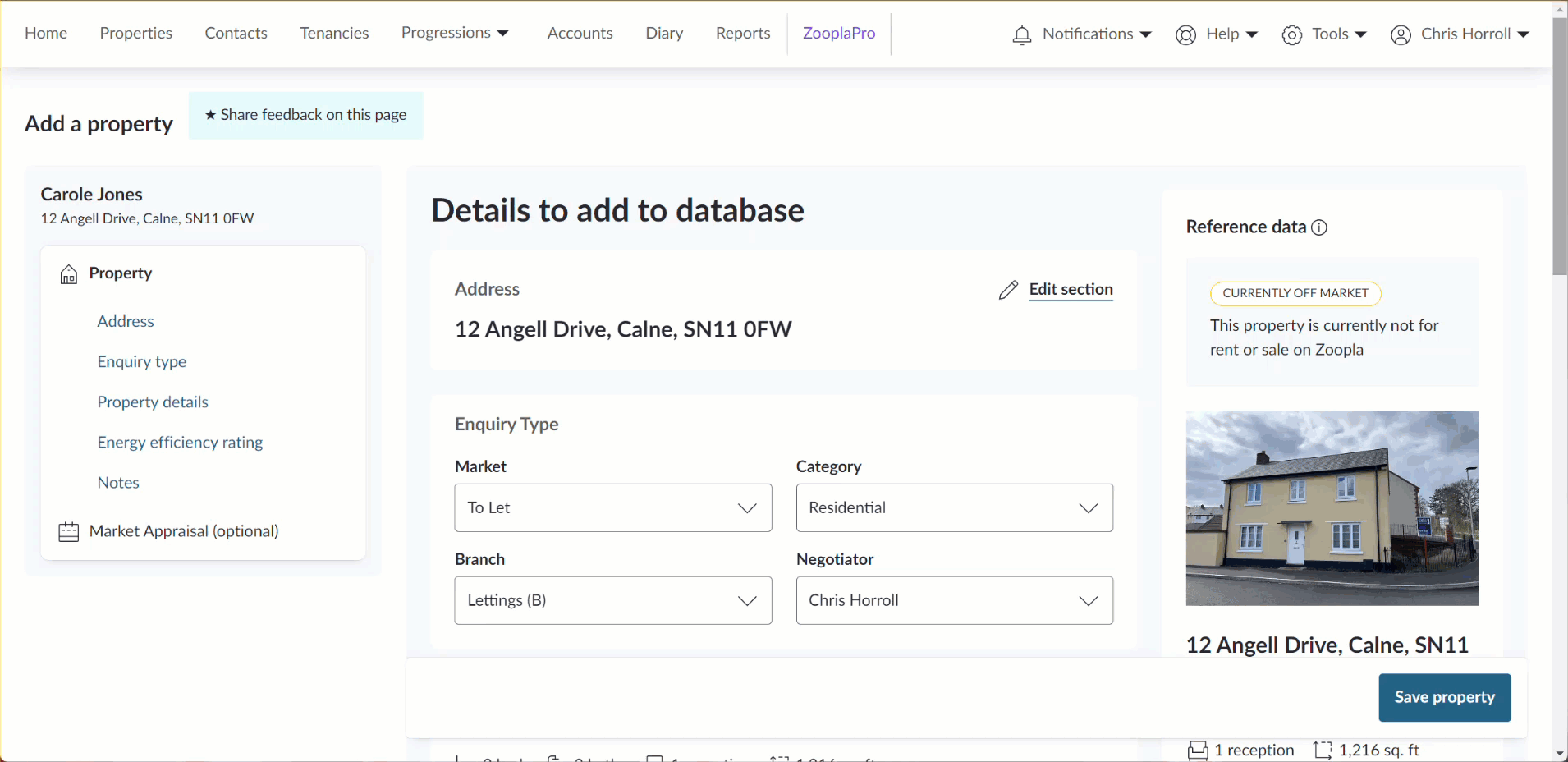 After saving the property, the property Overview page will load.
Any Appraiser notes you added are visible from within the Post-Appraisal top tab, accessed via Appraisal on the side menu.
You're now able to move on and using the Actions dropdown menu, either Book a Market Appraisal (if applicable), or, Instruct the property (as long as a Proposed price has been entered).
---
If you'd like to verify that the property has been added to the landlords record:
Click Contacts on the main toolbar

Select the relevant contact (landlord) from

Recent & Favourite Contacts

 

Alternatively, find the contact (landlord) using the

Search Contacts

bar in the top right

Click Properties on the side menu
The new property should be listed in addition to the pre-existing property
Related articles: 
Initial settings on a landlord