In Alto, you can easily search through existing landlord contact records as well as create new landlord records. In addition to creating them as a new contact, you can also add a new property record to their landlord record.
There are two parts to adding a landlord in Alto. First, you'll need to add the new landlord contact record as detailed below, then, the second is to customise the settings on their contact record as needed, to ensure best practice. 
This article includes: 
Search for an existing landlord record
Before adding a new contact record, you should first check that the contact doesn't already exist in Alto.
Click Contacts on the main toolbar

Find the contact using the

Search Contacts

bar in the top right
To find an existing landlord record, you can enter the landlords: 
Name
Telephone number
Email address
Contact address
A combination of the above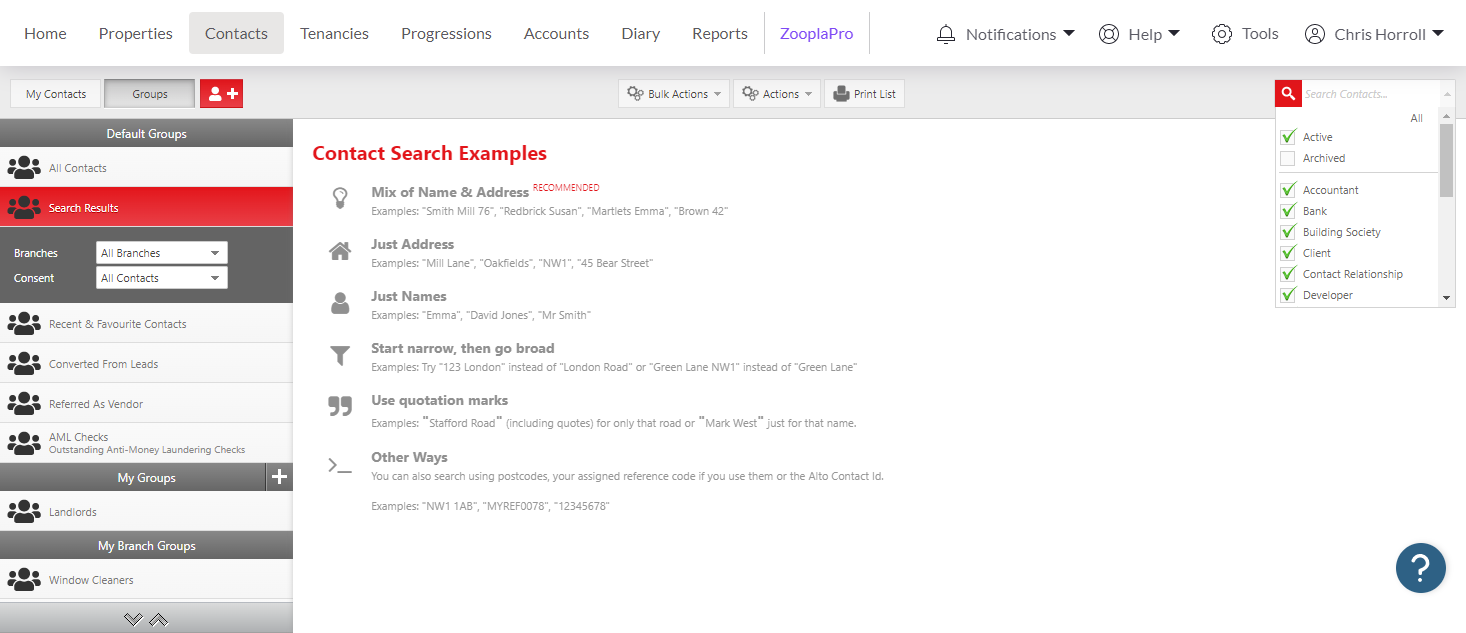 Note
You can click the down arrow at the end of the Search Contacts bar to include Archived landlords and to further filter the search
You might also want to consider utilising Groups to quickly view your landlords.
For more information on Creating a group of contacts, click here
Adding a new landlord
 Note
To create a new landlord, you will first have to create a new contact. Once the contact is added, they will automatically be referenced as a landlord when a property to let is created and linked to them
Click Contacts on the main toolbar
Click Add Contact
The Type of record needs to be set to Client
If the contact is only going to be a Landlord, change the Intention to Not looking
A Deactivating Requirement Profiles? message appears. Click Yes to confirm that you would like to deactivate the requirement profile
Enter all the landlord Contact information possible within the First Person, Second Person, Account Delivery Method and Address sections

When adding a new contact (whose Type is set as Client), upon entering their Postcode in the Address section, you'll have the option to Add a property. Once clicked, this will launch our new method to add a property, with the contact pre-selected as the Landlord

If you are able to complete any additional information in the Position, Preference Centre and Other Addresses top tabs, you can do so
Click Save
For more information on Adding a new contact and searching for contacts, click here

With the landlord now added, there are additional settings you'll need to customise on their record, such as their delivery method, bank details and payment groups, to help you ensure best practice. 
For more information on Initial settings on a landlord, click here
Adding a property
Click Properties on the main toolbar
The Add a Property page opens. Within the Find an existing contact field, enter a name, address, email or phone number for the relevant landlord. Then, click Search contacts
Select the relevant contact from the list below, and click Use selected contact 
If there are address details held on the landlords contact record, you can now click Look up property, or, you can Add a new address

If you are adding a new address, enter the Full UK postcode, select the Address and click Look up property. If we cannot locate the address or postcode via the Look up property option, you have the option to enter details manually 

With the property looked up, you can now review the Address and Enquiry Type details, the Property Details, and the Energy Efficiency Rating. Any of these details can be amended, and more details entered if you click the relevant Edit section option
(For example, you might want to make corrections if work has been carried out to change a 3 bedroom property into a 4 bedroom property)
In the Notes section, enter any Appraiser notes as you see fit
Once you've reviewed all the details, click Save property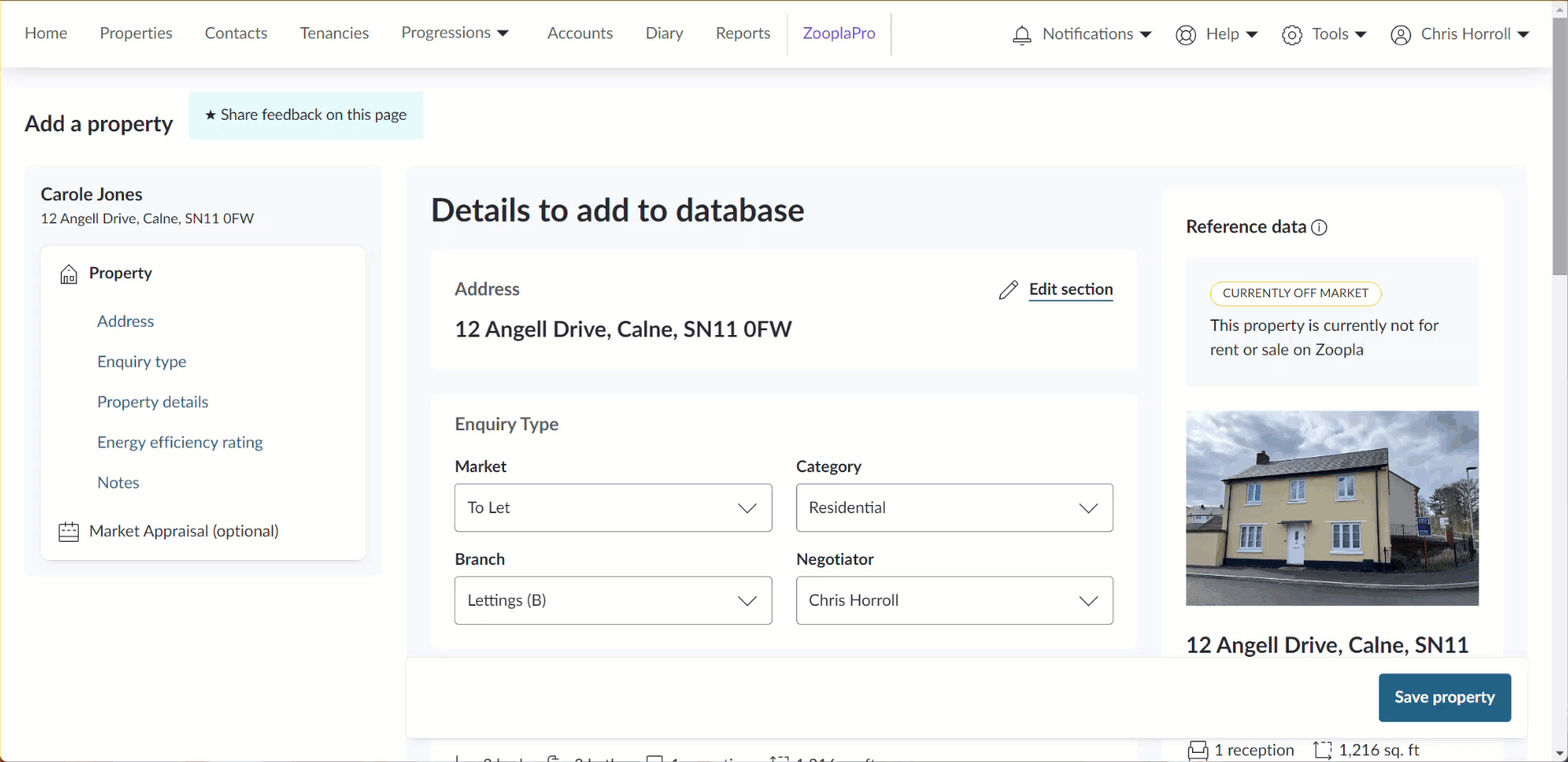 On the contact record Overview, they'll show as a Landlord. The property status stays as Appraisal until it gets changed to Instructed.
For more information on Adding a new property and searching for properties, click here
Related articles: