The export of your Alto diary to desktop Outlook is a one-way synchronisation, and so changes made in your calendar application will not synchronise back to your Alto diary. The export from Alto to your applications should be considered as read-only by the end user.
The Alto Diary Export function has been designed to allow you to export Alto diary events into applications that allow you to import a calendar from a URL. Once you have set up your calendar to import .ics files from Alto, appointments within 1 month of the current date will be imported into your personal calendar. For example, if today's date is 12th August, appointments between 12th July and 12th September of the same year, will be exported to your device.
The appointments will contain details of the property linked to the viewing or appointment, leads, landlord/viewer/tenant(s) and their main telephone number, providing the information is available.
Updates to your Alto diary will be visible in your personal calendar based on the settings applied to your calendar application.
This article includes:
Setting up the export of your Alto diary
The short video below will give you a brief run through, or, read on for a step by step guide.
For your Alto diary to automatically export your diary appointments, you will need to enable the function within Alto.
Click Diary on the main toolbar
Click My Diary on the side menu
Click the Sync symbol to open the Alto Diary Export
Slide the toggle to enable Diary Export

A URL will display in the text box. Click an option to extract the URL:

Copy Link - Copies the URL to your computer allowing you to paste it elsewhere
Send SMS - A text message containing the URL is sent to your mobile number that is set in your Alto user settings
Send Email -The URL is sent to the email address that is set in your Alto user settings
Note
You will need access to System Administration, to edit your user settings. Your appointed Group Administrator will have access to these permissions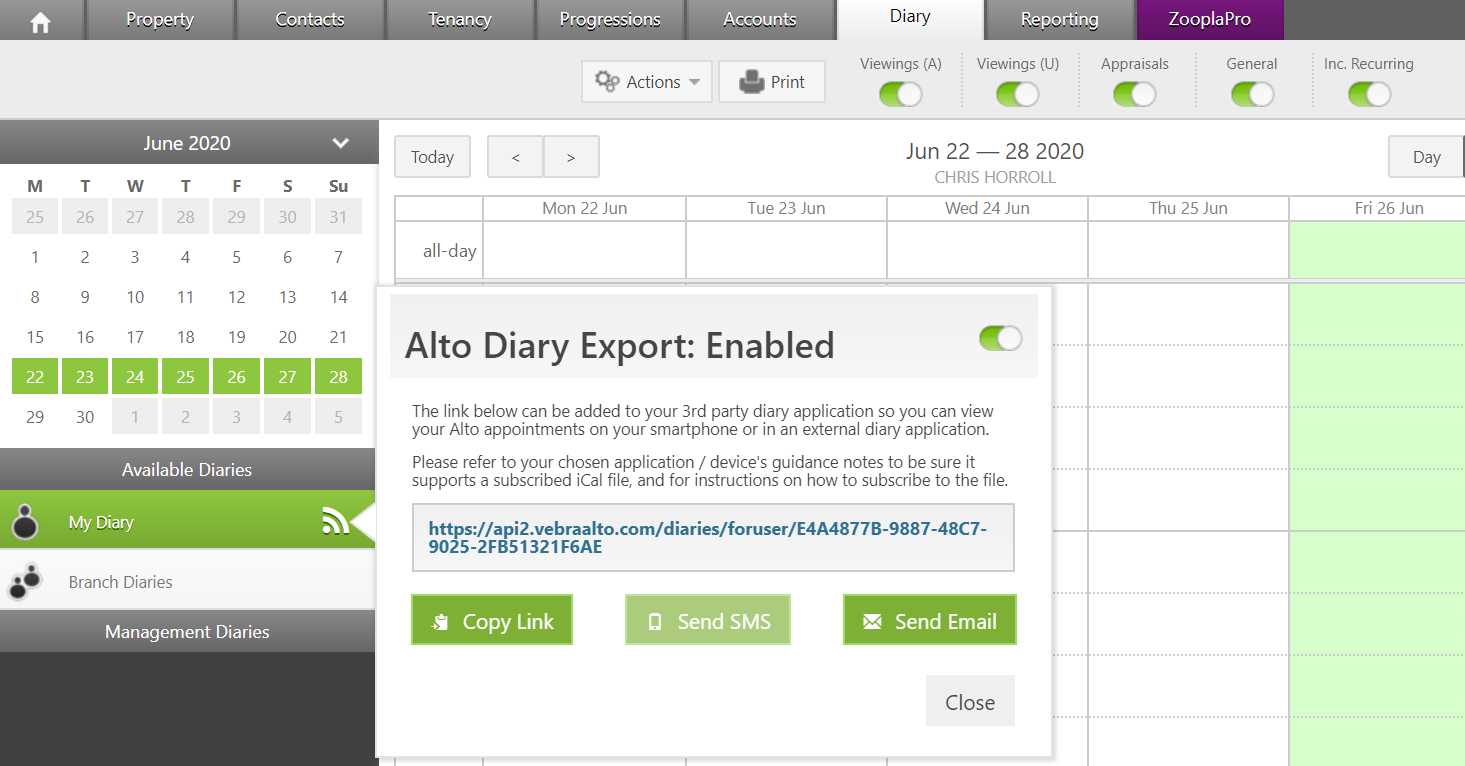 Open Outlook
On the Home tab, click Add Calendar
In the dropdown menu, click From Internet
Paste or type the URL from the Alto Diary Export into the field
Click OK
Click Yes
Your Alto diary will now be visible in the Other Calendars section of Outlook.
Change frequency of refresh
To change the frequency that Outlook will refresh the calendar feed from Alto:
Within Outlook, click the File tab
Click Options
Click Advanced and then Send/Receive
Within Settings for Group - All Accounts, you can change the timeframe for the automatic send/receive
Note
It's important you're aware that it is your responsibility to ensure you take suitable technical and organisational measure to keep your customers personal data safe outside of your CRM, Alto.
Related articles:
Exporting the diary to an android device