The Diary Export allows you to access a URL which enables you to view your Alto diary appointments on your smartphone or in an external diary application.
If you wish to deactivate Diary Export from any users calendar application, there are two methods. This is either by the individual user disabling it, or via System Administration. To deactivate the feature, Alto will send a blank .ics file to a user's device, overriding all diary appointments that have previously been exported.
This article includes:
Disabled via individual user
Users can cancel the export themselves by disabling the feature via My Diary. It is your responsibility to ensure the original URL is removed from your device(s).
Click Diary on the main toolbar
Click My Diary on the side menu
Click the Sync symbol to open the Alto Diary Export
Slide the toggle to disable Diary Export

(You can also enable the export in the same way)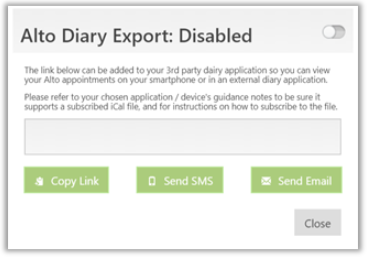 Disabled via System Administration
Another way to deactivate the export is by disabling the users access via System Administration. This will disable the users ability to access Alto.
Note
If you wish to remove Diary Export access from a user, you will need access to System Administration, to edit your default settings. Your appointed Group Administrator will have access to these permissions
Click Tools on the main toolbar
On the side menu, under System Tools, click System Administration
Click Group Users
Click Edit next to the user you want to remove access to
Scroll down and change their Status to Inactive
Click Save
Related articles:
Exporting the diary to iPad or iPhone
Exporting the diary to an android device