PropertyFile is an online platform that has been integrated with Alto. The Maintenance module allows tenants to report maintenance issues via the Tenant Portal website or app. You will be able to view and process the reported maintenance issues in Alto, and Tenants and Landlords will also have visibility of the Works Orders you choose to share.
This article includes:
How to access the tenant portal
Your tenant(s) can download the PropertyFile app from Apple's App Store or Google's Play Store. The app allows your tenant(s) to access a mobile version of the features available online.
Once a tenant has logged into their Tenant Portal they can:
Report a maintenance issue
View a news feed
View their tenancy information
See maintenance details
How tenants can report a maintenance issue
Your tenant(s) can report a maintenance issue by logging into the tenant portal via the app or online. The tenant will need to:
Click/Tap Report An Issue
Select an Issue Type
Select a sub-category
Attach photo(s)
Review the content and click Submit
Note
Tenants will be unable to raise a maintenance issue against a property with a management type of:
Not managed
Part managed
Rent collection service
Let only
Maintenance progress notifications
Tenants will receive updates in their PropertyFile news feed and receive email notifications for the following events:
Requests submitted from PropertyFile to Alto
New works orders created in PropertyFile
Works orders marked as being accepted or rejected
Works orders status being changed from Reported to Supplier Instructed
Works orders that have been Cancelled
Note
Details of the maintenance jobs can also be visible to tenants in the tenant portal where you have chosen to share this with the tenant in Alto

Details of the maintenance jobs can be visible to landlords in the landlord portal where you have chosen to share this with the landlord in Alto. Unacknowledged requests will not be visible to Landlords
Managing maintenance issues in Alto
Maintenance requests submitted via PropertyFile tenant portal will be visible in Alto on your Property Management Dashboard via the Works Order - Status widget.
The Works Orders with the Status of Unacknowledged will be new maintenance requests made by tenants using PropertyFile.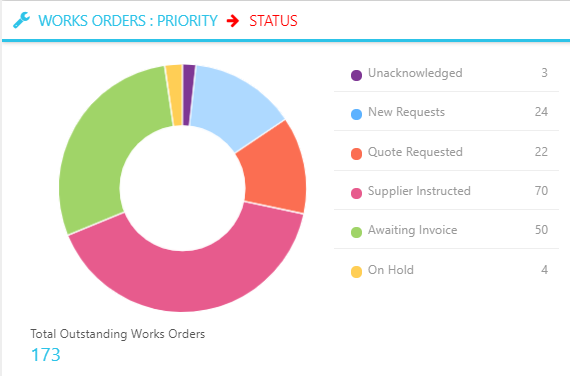 Note
A record of the maintenance request submitted through the tenant portal will also be available on the property Timeline and the tenancy Timeline
Click Unacknowledged on the Works Orders Status widget
The Work Orders - Unacknowledged Requests window opens. Click the work order request that you want to action
The Edit Works Order window opens. You can click Accept or Reject on the works order request

Accept moves the works order status from Unacknowledged to New Request
Reject will provide the request with a rejected status and it will be removed from the Works Orders widget
Note
A rejected works order can be changed to accepted. Click Management on the side menu of a property record and click on the relevant rejected works order. Click Accept, and the works order will then appear in New Requests on the Works Orders widget
Sharing or not sharing a works order
By default, the works order and progression information will be visible to tenants and landlords using PropertyFile, if the respective modules have been activated by your Group Administrator.
However, it's possible to choose not to share a works order with a landlord or a tenant.
Open the relevant works order from the Works Orders Status widget
In the Edit Works Order window, click Shared (shared with 1 or more parties)

If the option is disabled, you'll need to to switch on the Maintenance module
For more information on Activating PropertyFile Maintenance, click here

The PropertyFile Sharing window opens. Click the tickbox(es) to determine who the works order is shared or not shared with (Landlords and/or Tenants)

You can choose which tenants can view the works order by choosing a tenancy from the dropdown menu

Click Save
Note
If you aren't sharing a works order, contacts no longer receive updates on it and the item will be removed from the Maintenance tab in the Landlord/Tenant PropertyFile portal