One important task is adding property records onto Alto and it's vital that it's completed as well as can be. Outlined below are the steps involved for adding a property for sale or to let onto Alto, and how you prepare the property record to go on the market.
This article includes:
Adding a property
Click Property on the main toolbar
The Add a Market Appraisal or Property window opens
In the Vendor/Landlord section, using the search bar, find and click the relevant vendor or landlord

If a record doesn't exist for the vendor or landlord yet, click Add New
Enter all the vendor or landlord information possible within the First Person, Second Person, Address and Details sections
Click Next

To add a new property record, in The Property section, click Add New
The Add New Property window opens. You can either use the Postcode finder to set the address, or manually enter the property address
Check the address is correct and then select:

The Branch you want this property to be allocated to
The Negotiator you want this property to be allocated to
Market - Click For Sale for a sales property or To Let for a lettings property
Property Category - i.e. Residential
Type of property - i.e. House
Enter the number of Rooms, Bedrooms, Bathrooms and Receptions, if known

Click Next
Click

Book

to add a Market Appraisal to your diary (Optional)



Note

You don't have to book a Market Appraisal at this stage. However, on the property, you will need to record the Proposed price in the Post Appraisal top tab, within Appraisal on the side menu
For more information on Booking a market appraisal for a property, click here

Click Finish
The contact record Overview now shows as a Vendor for a sales property or a Landlord for a lettings property. The property status will stay as Appraisal until it gets changed to Instructed.
For more information on Instructing a property, click here
Note
You will not be able to market, book viewings or start a tenancy on the property until the property status has been changed from Appraisal to Instructed, then changed to Available
How to find an existing property record
Click Property on the main toolbar
If you've recently been on the property record, you can select it from Recent & Favourite Properties. Otherwise, find the property using the Search Properties bar in the top right. You can enter the:
Address (or any part of the address)
Vendor or Landlord name
A combination of the two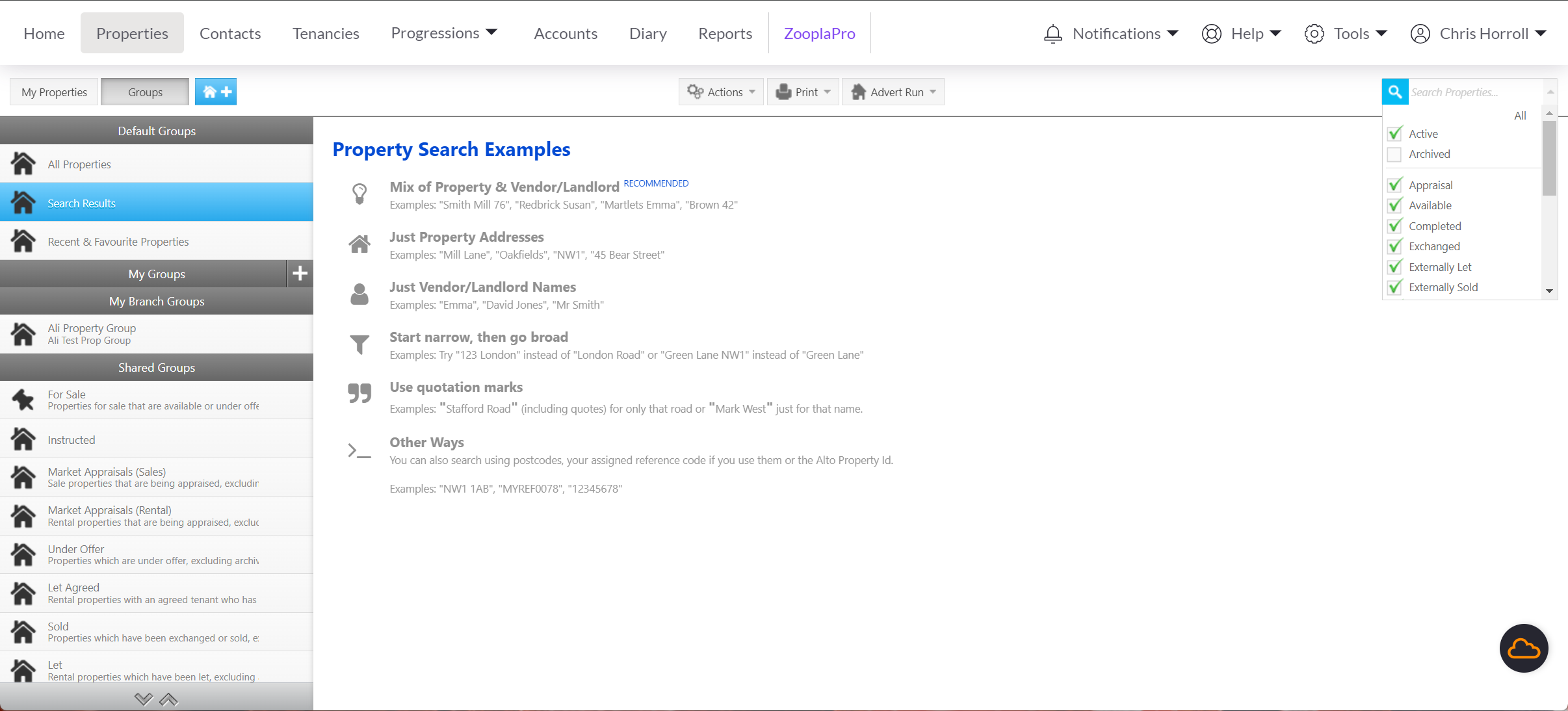 Note
Click the down arrow on the Search Properties bar to include Archived properties and to filter the search
Preparing the property to go on the market
Click the articles below to take you through how to prepare a property for going on the market.
Adding in an area on a property
Adding in the lead in/lead out on a property
Adding directions to a property
Adding in features on a property
Adding in bullet points on a property
Adding one or more floorplans to a property
Adding in a floorplan using Plan Up on a property
Adding virtual tours to a property
Adding in web links for a property
Changing the status of a property
Uploading a property to the internet
Related articles: