GDPR affects all your client contacts in Alto including vendors, landlords and applicants. The GDPR setting on your contacts Preference Centre will determine how you can use your contacts data within Alto.
This article includes:
General Data Protection Regulations - consent
The content of this document is not legal advice. You should consult a legal advisor about your GDPR responsibilities.
Management of consent preferences
To ensure that you (the controller of the data) can meet your obligations under the General Data Protection Regulations requirements, Alto has a Preference Centre on each client contact record.
Click Contacts on the main toolbar
Select the relevant contact from Recent & Favourite Contacts

Alternatively, find the contact using the Search Contacts bar in the top right

C

lick Contact on the side menu

Click

the Preference Centre top tab
This enables you to record your client's consent status, the date consent was obtained, and by whom/or how this consent was gained.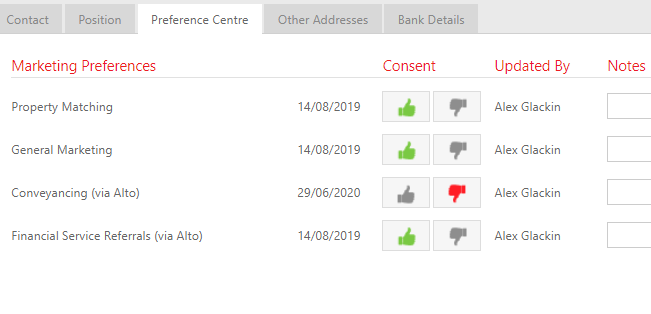 Related articles:
Creating a group - consent features