Alto uses its own word processor to create letter templates. As part of this process, you're able to use the editor features in the processor to change the numbering and bullet point style in a list.
Whilst you don't need any knowledge of HTML to format these features, if you are familiar with it, you can click Source in any letter template to write your letter in HTML instead of text.
This article includes:
Letter editor features
Click Tools on the main toolbar
On the side menu, under App Tools, click Letters & Stationery Templates
Click the relevant Letter Template that you wish to add changes
The Edit Letter Template window opens. A toolbar of icons will display, in order of left to right

Insert/Remove Numbered List -

Press the

Tab

key to advance numbering to the next level

Insert/Remove Bulleted List -

Press the

Tab

key to advance bullet points to next style

Strike Through - Places a line through the selected text
Source - Shows the text in HTML format

Changing numbered lists
Numbered lists can be edited so your starting number is different to the auto generated number 1.
Click Insert/Remove Numbered List
Right click and click Numbered List Properties

Start - Edit the number which you want your numbers to start at
Type - Click your preferred numbering type from the list
Click OK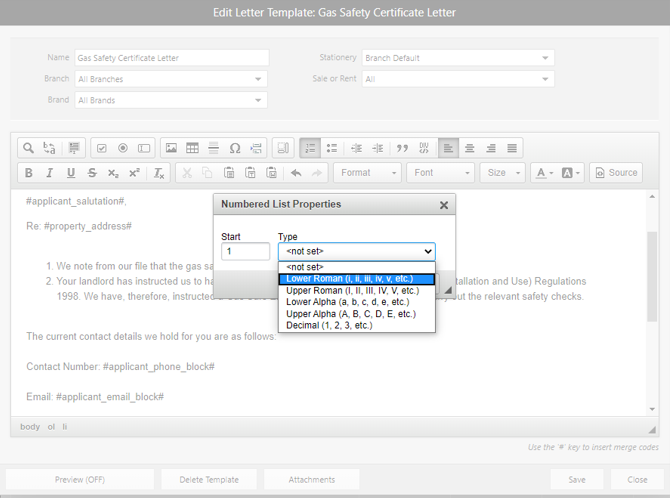 Changing bullet points
The bullet point can be edited so your bullet is different to the auto generated dark dot.
Click Insert/Remove Bulleted List
Right click and click Bulleted List Properties

Type - Click your preferred style of bullet
Click OK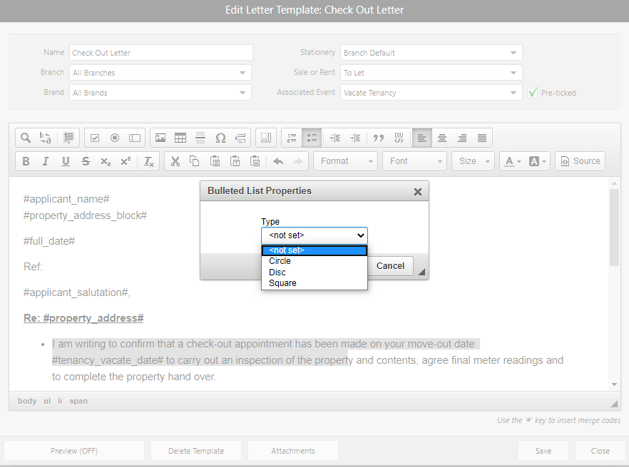 Strike Through
Highlight the text in your letter template
Click Strike Through
A line will appear through the text you highlighted
Related articles:
Creating an ad hoc letter template