The steps below outline how you can view all invoices that are due to be paid to a supplier, as well as how to:
Pay a supplier

Produce a remittance advice of the invoices you are paying

View outstanding supplier invoices

Part pay an invoice

Withhold payment

View a breakdown of commission amount due
Supplier payment
Click Contacts on the main toolbar

Select the relevant contact (supplier) from

Recent & Favourite Contacts

Alternatively, find the contact (supplier) using the

Search Contacts

bar in the top right

Click Actions
In the dropdown menu, click Payment
The Payments For This Supplier window opens. Click the Options tab
Check that the Payment Method, Bank Reference

and

Remittance Remark are correct. Click the Payments tab

Tick and untick the items that you want to include or exclude from payment
Amount Due - This is the total amount of the invoice entered for that charge item
Available - This indicates if funds are available to pay the invoice, if part can be paid, or none at all
Allocated - This can be edited to a lesser amount if you need to withhold payment for an individual invoice. Alternatively, you can edit it to reduce the amount, if required
i symbol - Click the i to show a commission calculation on the invoice
Commission Amount - The total of all commission on this payment to the supplier

Click Preview to view a copy of the remittance advice
Click Update to produce and send the remittance advice by email or print, depending on the suppliers Account Delivery Method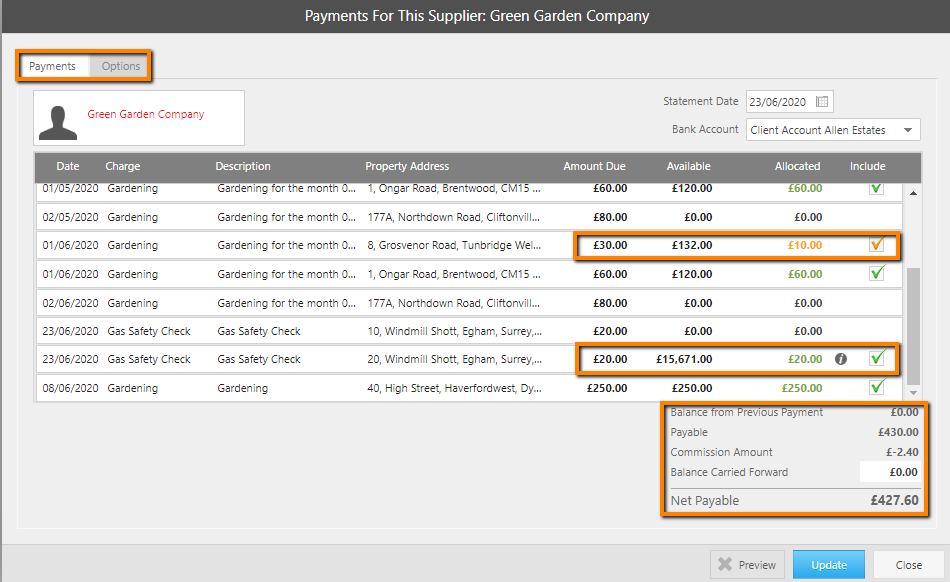 If your agency pays suppliers by internet, a list of suppliers to be paid can be found in Bank Reconciliation.
Click Accounts on the main toolbar

On

the side menu, within the Bank Transactions section, click Bank Reconciliation
Click

View

on the corresponding

client account

A list of suppliers paid by date are listed
If your agency pays suppliers by BACS, a list of suppliers to be paid can be found in Bacs Payment Update
Click Accounts on the main toolbar

On

the side menu, within the Bank Transactions section, click Bacs Payment Update
Click

View

on the corresponding

client account

A

list of suppliers paid by date are listed and ready should you wish to click Create Payment File
For more information on Making payments via BACS, click here
For more information on Reversing a supplier payment, click here
For more information on Paying suppliers in bulk, click here
For more information on Taking commission from a supplier payment, click here