An expense can be added to a property from the property record, either with or without a work order. In either instance, the expense will be created as a charge against the selected property and be paid to the supplier when funds are available.
This article includes:
Adding an expense
Click Property on the main toolbar
Select the relevant property from Recent & Favourite Properties

Alternatively, find the property using the Search Properties bar in the top right

Click Actions
In the dropdown menu, click Charge
The Charges For window opens. Click Add Charge
The Add Charge for window opens

Charge Date - Leave this as today's date, or, edit it if the charge shouldn't be deducted until a future date. If the contractor has payment terms, this will be the date which the payment term begins
For more information on Supplier payment terms, click here
Frequency - Leave this as Single, unless the invoice is a reoccurring charge
Charge Item - Click Expenses, then tick an option from the list
Description - Edit this so that it represents a description of the expense
Net Amount - Enter the amount payable to the supplier
Supplier - Search for and select the supplier to whom the expense is payable. The expense will appear on the landlord statement and be deducted from the income received
Supplier Reference - Add the supplier's invoice number (if available)
Link PDF - If a scanned copy of the invoice is available, click + to upload it into Alto
Works Order - Link the expense to an existing works order, if one already exists in Alto
For more information on Adding a works order from a property, click here
For more information on Adding a works order from a supplier, click here

Click OK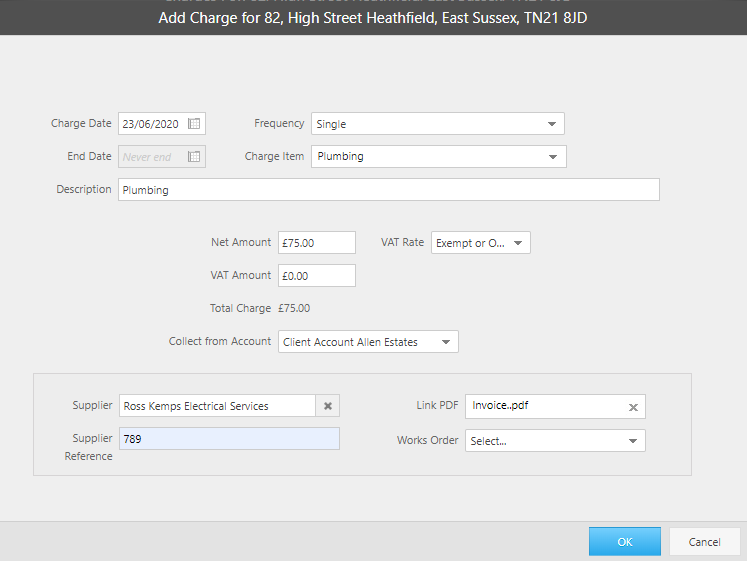 Raising an expense
If you don't raise the charge immediately, it will raise automatically on the Charge Date. If you want to raise the expense immediately:
Tick

Raise Now

next to the charge you have created

Click

Raise Selected
Viewing an expense
A record of the expense appears on both the landlord and property Transactions on the side menu.
To view the expense on the property:
Click Property on the main toolbar
Select the relevant property from Recent & Favourite Properties

Alternatively, find the property using the Search Properties bar in the top right

Click

Transactions on the side menu
In the Include dropdown menu, click Ledger
Click the relevant transaction to view it in more detail