You can refund any Non Resident Landlord (NRL) tax held in your client bank account, providing it hasn't yet been paid to the HMRC.
This article includes:
Reasons for refunding NRL tax
There are various scenarios that may result in a refund of NRL tax to a landlord. A few examples are:
Tax deducted in error, i.e. the landlord is not overseas, or the overseas from date was set incorrectly
The agent has received a backdated approval reference number for the landlord
The landlord VAT status was incorrect in the landlords tax
The landlord has paid an expense directly (out of pocket) and requested a refund in lieu of a tax credit
Note
If any details have been set up incorrectly on a landlord, you must update these details in their landlord contact record. Ensure the details in their Tax top tab, (accessed via Contact on the side menu), are correct and therefore retained correctly for the future
For more information on Initial settings on a landlord, click here
Processing a landlord refund of NRL tax
Click Accounts on the main toolbar

On

the side menu, within the Bank Transactions section, click Process NRL Tax
Click View on the client account you will be processing the NRL tax refund
Click the Landlord Refunds of NRL Tax top tab
Find and select the contact using the Search bar
In the Include dropdown menu, either click All Branches or an individual branch

Click on the row of the landlord that you need to refund

The Refunds for window opens. The l

andlords name and address display

A row displays for each tax Quarter and each Payment Group. Tick Include to refund all monies held in a tax Quarter for a Payment Group
Enter an amount in the Refund amount column
In the Refund Type dropdown menu, click the relevant payment method that your agency wishes to use
Tick Send Refund if you want to send a copy of the refund advice directly to the landlord, in the same way that their landlord statements are sent (This is based on their Account Delivery Method, in their Contact record)
Click Preview to view the refund advice, and then Exit Preview to return

Click Update
An entry appears in the landlords Transactions and also on their Timeline, where it can be viewed and printed.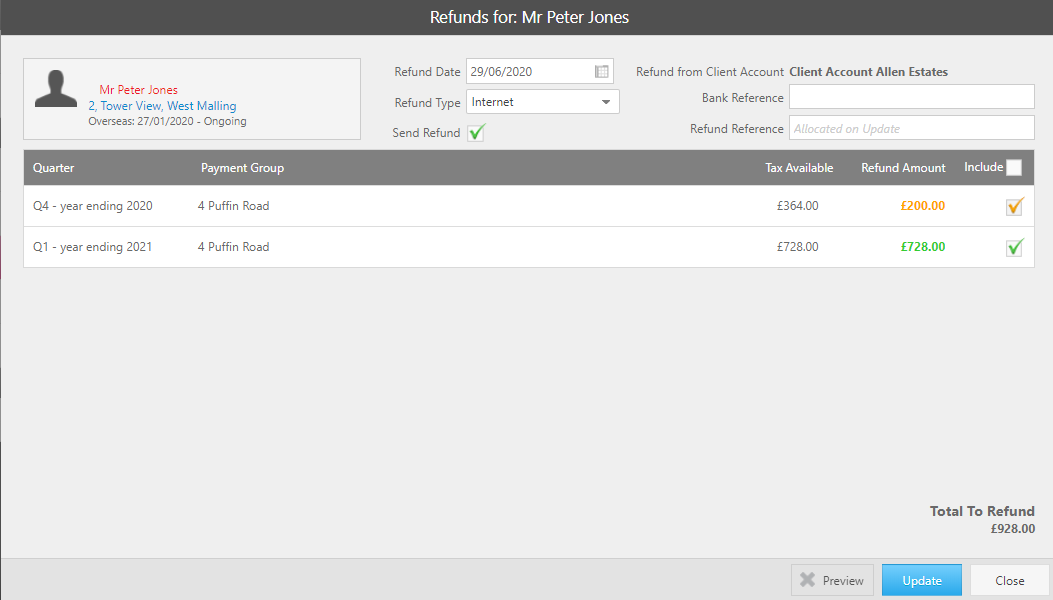 Note
The tax refund will not appear on the landlords statement. A separate refund advice is sent by their preferred Account Delivery Method
Tax received from a landlord, and tax opening balances, are not linked to a payment group
Related articles:
Overseas tax / NRL - process tax quarterly