All upcoming event dates that are to be renewed for your tenancies are accessible from the Event Dates widget on the Property Management Dashboard.
All of the events are colour coded by type (orange are upcoming, red are overdue) and from here, you can manage due or overdue dates for insurance renewal, tenancies, landlords, and contacts. Property dates such as safety certificate renewals and inspection renewals can also be managed.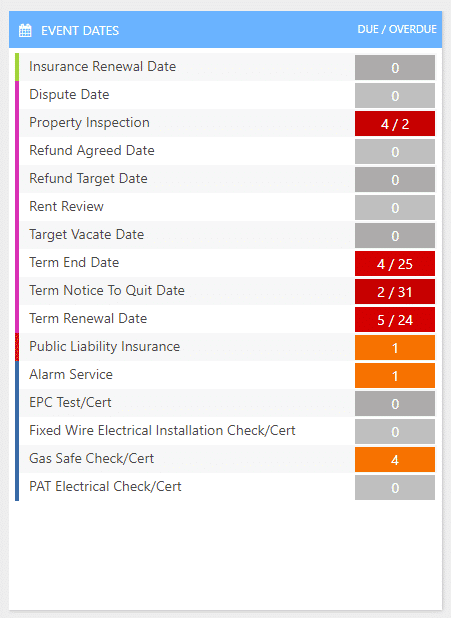 The steps below outline how to set the task to In Progress once you commence action on it, and how to Complete the task and renew the dates once you have actioned it.
Click Home on the main toolbar
Click Property Management Dashboard on the Home screen side menu
Scroll down to view the Event Dates widget. A list of varying types of event dates are shown with a corresponding number as to how many are due or overdue
Click the relevant type of event date
In the Date Events window, click the item you wish to manage and mark as renewal in progress

Some Event Dates allow you to Email All Tenants and Email All Landlords
For more information on Sending an email to all landlords and tenants, click here

In the Manage Date window, you can amend the Renewal Date Status. Click In Progress
Amend the Due Date, as required
Add any relevant Notes
Click Update
You can follow your agency process for renewing the relevant date.
Once you have completed the renewal:
Follow steps 1-5 above
In the Manage Date window, click Complete
Record the Completed Date and amend the Rescheduled For date, as required
Add any relevant Notes
Click Update
Related articles: