In Alto, to save you time and to help ensure your communication to your customers is on brand, you can now select a template to use when sending an ad hoc email.
This article will help you learn how to use and configure the Content Properties in Email Templates.
This article includes:
Content Properties
When you click on a content element in the message editing area on the left, the Content tab panel switches to Content Properties. Here you can change the settings of that particular content block.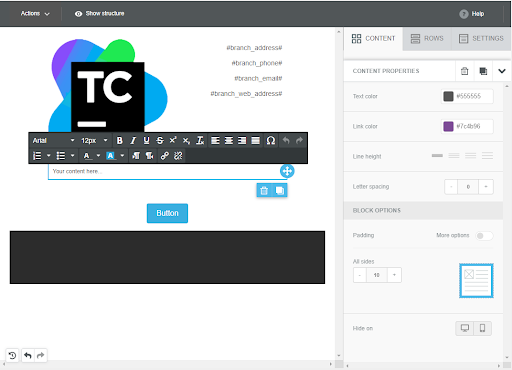 When you click outside of a content element, the Row in which the content element is located, will be selected and its properties available
For more information on How to use Rows in Email Templates, click here
The Content Properties change depending on the content element that has been selected
Note
Some of the Content Properties are available for any content type, while others are specific for certain content types. For instance, the Letter spacing property is only available for content blocks where there's a text element, like Title, Text, Menu, Button, etc. This property enables you to customise the spacing in pixels between letters, where 0 is the default spacing for the font in use
Another content element example is the Button block, where you will see a number of Content Properties to help you style the button and link it to your desired action (open a web page, send an email, make a phone call, etc). In the example below, the Show me how button has been selected.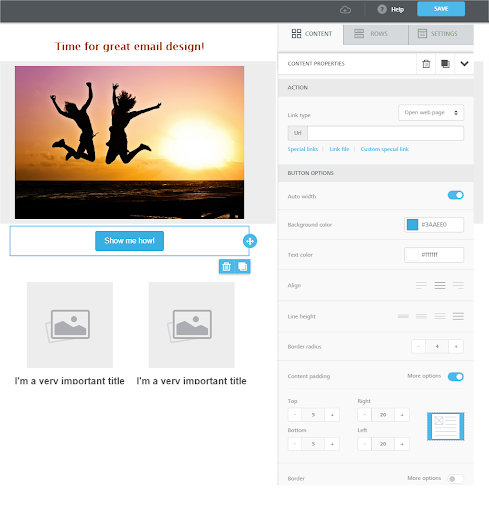 The Content Properties for Button allows you to set the button's width, background colour, text colour, alignment, roundness of the corners, padding around the text, etc
Some of the settings, including Content padding and Borders have both a simple editing mode – where only one setting is shown – and an advanced editing mode, where more control is provided (e.g. specifying padding for the four sides of the object independently of each other)
Note
When the properties panel is longer than the height of the screen, a scroll bar appears on the right side
Common settings
Padding - Padding settings can be configured for All sides of the selected element, or, you can toggle on More options to change padding separately for each side


Padding All sides


More options enabled, allowing you to change padding separately for each side
Borders - Border settings can be configured for All sides of the selected element, or, you can toggle on More options to manage borders separately for each side of a button, column, etc


Border All sides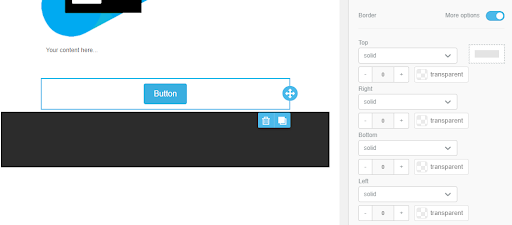 More options enabled, allowing you to manage borders separately for each side
Colour memory - As you pick colours for fonts, background colours etc, the editor will learn and remember them, making them quickly accessible to style future content elements