In Alto, to save you time and to help ensure your communication to your customers is on brand, you can now select a template to use when sending an ad hoc email. This article will help you understand and use Icons as a Content element.
When designing an email, several layouts can be created by combining icons or small images, often with some copy text. That is why the editor has an Icons content block for creating icon-based content. This block is also not restricted by Row structures, allowing you more flexibility in your designs.
You can use Icons to create visual bullet lists, ratings, properties, logo galleries, etc.

To get started using Icons:
Click the Icons block available in the Content tab of the editor
Drag it on to the message editing area (the stage) on the left to create an icon block placeholder
Click on it to open the Content Properties, and in there, click Add new icon to add the first icon
A predefined icon will populate the icon block




Click Change image to select an image from the File manager
To edit the image with our Image Editor, click Apply effects & more
Repeat this process until you complete your icon collection
Note
If you slide the toggle to display More options, you'll find a couple of options specific to Icons content blocks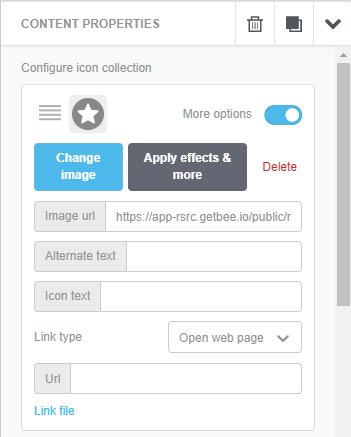 With More options toggled on, you can:
Add Icon text to create an accompanying section of text that you can position on top, bottom, left, or right of the icon
Add a Url for the icon and enter Alternate text for the icon image
Click and drag icons in the panel to change the order when you have multiple icons in use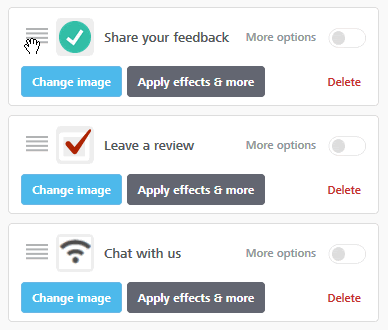 As you scroll down through the Content Properties, you will see a few options that are specific for Icons:
Icon size - You can pick a size for icons
Icon spacing - Decide the spacing between them
Icon padding - Apply additional padding that will affect all the icons