The Management Summary - Branch Breakdown reports allow you to create a summary of the current state of your business. The reports can be run for a single branch or all of your business.
The reports split out figures from each of your branches. It can be run:
Horizontally - with the branches running in columns
Vertically - with the branch information running across the rows
This makes it easier for multi branch set ups to view the reports.
The Management Summary - Vertical Branch Breakdown report (where the branches are listed down the left side of the page) allows considerable customisation as there are 50 separate columns that can be selected, giving great flexibility.
To create your Management Summary - Branch Breakdown report:
Click Reporting on the main toolbar
Click Management in the side menu under Reporting Groups

Click Management Summary - Horizontal Branch Breakdown under Management Reports to run a report with the branches running in columns
Click Management Summary - Vertical Branch Breakdown under Management Reports to run a report with the branches running in rows

You can select from several Report Options under Your Report to filter by:

Period
From and To dates
Sale/Rent
Category (Any/Residential Only/Commercial Only)
Overseas (Include/Exclude)

The report can be further filtered using the additional tabs under Your Report
Click Create Report to generate a one off report

You can also Export the report into a .pdf, Excel or .csv document if you prefer to view it in an alternative format

The report will automatically open in a new browser tab once created

The report also appears as a Page icon next to your login name on the main toolbar. Should it not open automatically, or if it's closed accidentally, hover over the icon and click Open next to the report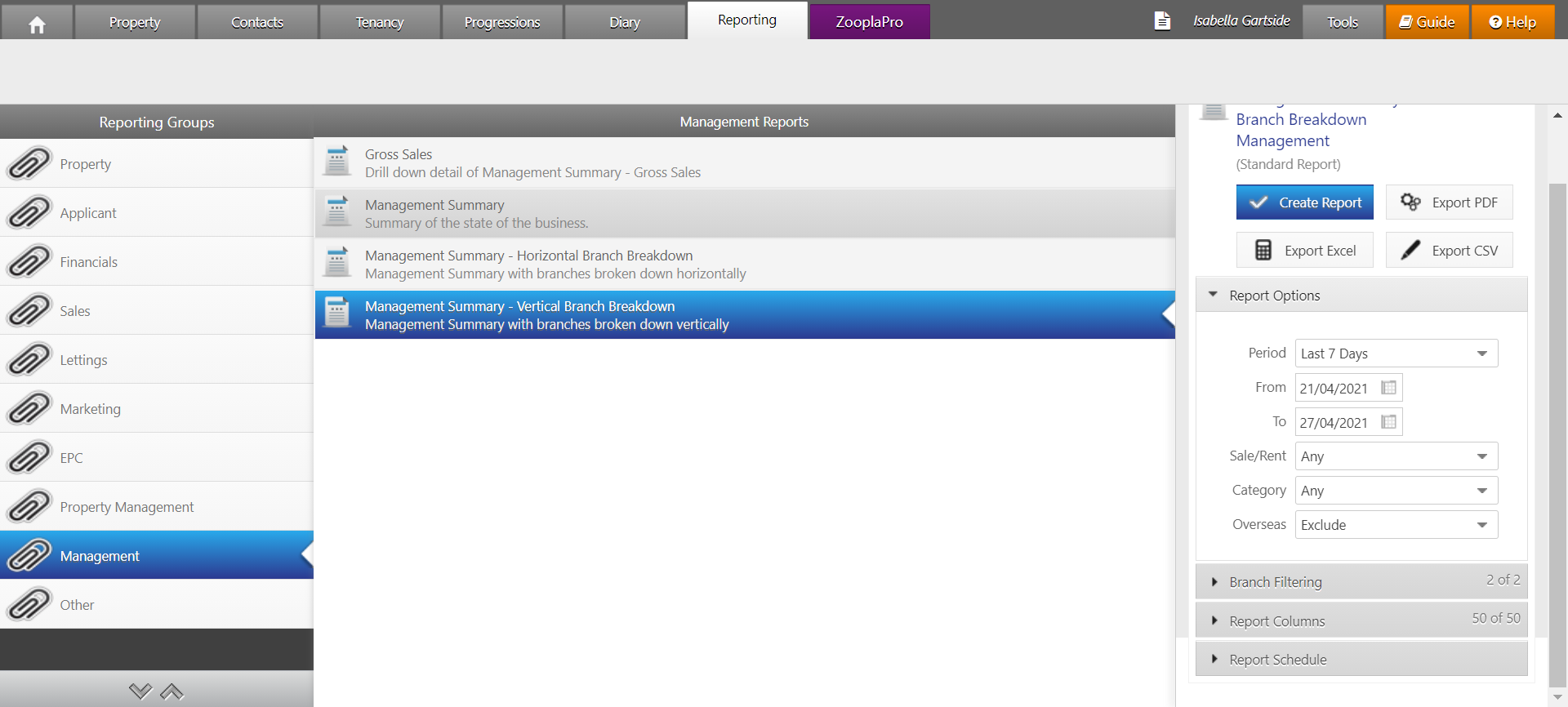 The Management Summary - Horizontal Branch Breakdown report shows the:
Summary Type
Breakdown
Total
The Management Summary - Vertical Branch Breakdown report shows the:
Branches
Current Stock
Available Stock Total Fees
Available Stock Total Sale Price
Mas
MAs Cancs
Instruct.Fees
Instruct.Price
Instruct.Avg Fee %
Made Avail
Avail.Total Fees
Avail.Total Price
Avail.Avg Fee %
Withdrawls
Viewings
Cancelled Viewings
Offers Made
Offers Revised
Exchanges
Exchange Fees
Exchange Price
Exchange Avg Fee
Gross Sales
Gross Sales(once per prop)
Gross Sales Fees
Gross Sales Fees (once per prop)
Fall Throughs
Fall Throughs (once per prop)
Fall Throughs Fees
Fall Throughs Fees (once per prop)
Fall Throughs Price
Fall Throughs Price (once per prop)
Nett Sales
Nett Sales (once per prop)
Net Sales Fees
Net Sales Fees (once per prop)
Nett Sales Price
Nett Sales Price (once per prop)
Rental Instructions
Rentals Takeovers
Contacts Reg
Cotant Appl.Reg
Contacts Active
Pipeline Properties (UO/SSTC)
Pipeline Fees
PipelinePrice
Pipeline Status
Note
If you close the Report Requests window (Page icon), you can click on the icon again to reopen the report requests
Related articles: