Roles can be defined in Alto which control user access to certain parts of the software. To access, edit and amend the Group Roles, a user must have access to System Administration and Group Roles.
The role of Group Administrator gives full access to all aspects of Alto.
This article includes:
Role uses
Roles define a users permissions and can be active or inactive, have branches assigned to them, and tokens which control the reports the user will have access to.
There are 4 categories of access:
NO access
Read only
Read/Write
Full access
If there is a branch where some users need restricted access:
Create a specific role just for that branch and then assign that role to a user. The user would then have access to their own branch but no others
There are four default roles that are part of every Alto set up, but more can be added.
We do not recommend altering the access of these default roles generally as they can affect other parts of Alto. It is better practice to create custom roles and add those to a User profile as required.
For example, it may be useful to turn off some permissions on a Negotiator role, such as to restrict access to customise templates or bulk archive. Instead, create a custom role just for those tasks and apply that role to specific users who will perform those tasks rather than allow it for all negotiators.
All users must have as a minimum the roles of Shared contact Administrator and User which gives people access to the contacts shared between branches, i.e. solicitors and contractors.
The following 4 basic roles have been set up to give users the level of access they need in their everyday work. It is not usually necessary to amend the permissions contained within these roles. New roles can be created with greater or lesser permissions if necessary and these roles can be assigned to users.
Group Administrator - Full access – access all areas
Shared Contact Administrator - Can add contacts and assign contacts to branches and negotiators can book appointments
Shared Contact User - Can add contacts
Negotiator – Can add contacts, properties and create event driven letters and emails
Note
For access to PropertyFile, users must have the Group Administrator role assigned to their account
For more information on PropertyFile, click here
Group Users
To edit a user role:
Click Tools on the

main toolbar
On the

side menu, under

System Tools, click

System Administration
Click

Group Users
Click

Edit

next to the relevant user (This will bring up the page which defines which branches (and therefore the contacts and properties in those branches)

In the Edit User screen, various options can be selected which then feed data dynamically into letters and email templates.
The Forename, Surname, Email, Work phone, Branch Name & Job title can be used as merge codes in emails and letters.
#negotiator
work phone - #negotiator_phone#
#negotiator_email#
#job_title#
If you scroll to the bottom, you can see which branches that role is assigned to and which users.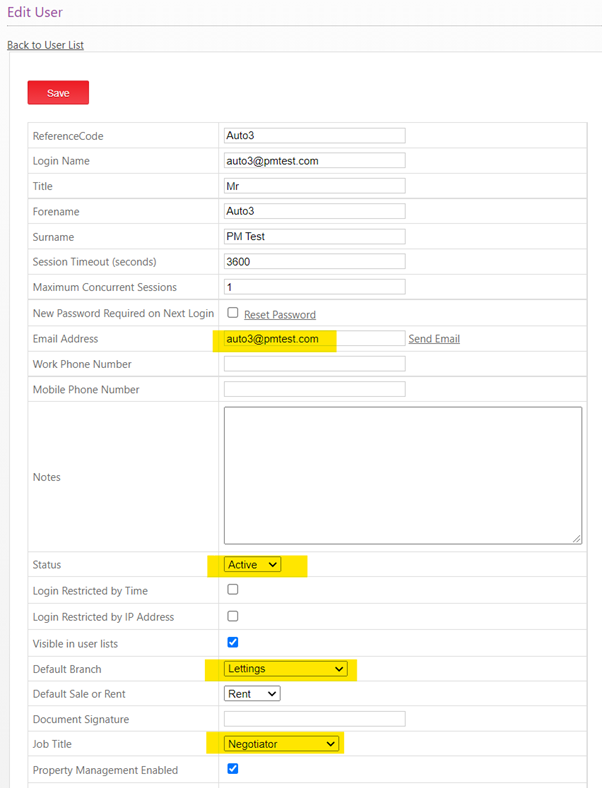 Custom Roles
Creating custom roles to allow a user to customise letters or brochures can be useful to maintain control over designs. To create a custom role:
Click Tools on the

main toolbar
On the

side menu, under

System Tools, click

System Administration
Click

Group Roles
Click

Create New
Give the new role a name (Reference Code) and Description. Click Create
With the new role selected, click through to select the branches and permissions
If you scroll to the bottom, the custom role can be applied to users and report tokens. Roles can then be linked to branches and to user profiles
Click Save
Creating Custom Roles
In the scenario where an agency only wants one person to have the ability to be able to customise a template, a new role could be created called Design. This role could then be applied to specific user profiles. Similarly, roles can be created to do Bacs Payments, Batch Receipt, Bulk Archive, Bulk Delete etc.
Examples of Custom Roles
Customise templates
Lettings negotiator
Bulk Archive
Branch Manager
PM Full access
The following expandable list describes all the areas that would be needed to have Property Management access for Lettings, as well as all the areas that would be needed to have Residential Sales.
Areas needing Property Management access for Lettings
Accounting
Accounts Document Processing
Accounts Centre
Agency Payments
Appraisal
BACS Payments
Contact Bank Accounts
Bank Account Reconciliation
BatchList
BatchReceipt - Allows access to batch receipts
Board Management
Branch
Brand
BulkArchiveContact - Allows bulk archive of contacts
BulkDelete - Controls access to mark Contact records for deletion
Charges
ClientAccount - Landlord and Property Client Accounts
Company
Contact - Controls access to Contacts
ContactAddress
ContactDate - Contact Management Dates
ContactTenancy - Contact Tenancy List
Deposit Transfers
DocumentTemplate - Create and edit letter, stationery, and email template
Electronic Signing
Group Bank Account Maintenance
Group Settings
Inland Revenue Payments
Landlord Statements
Landlord Supplier Maintenance
Landlord Tax Maintenance
Letter
Management Section
Opening Balances
Payment Groups
PM Financial Reporting
PropertyDate - Property Management Dates
PropertyInsurance - Property Insurance Maintenance
PropertySupplier - Property Supplier Maintenance
Property Tenancy List
Property Utilities Maintenance
Receipts
Refunds
Supplier Payments
SupplierPaymentDetail - Supplier Payment Detail Maintenance
Allow setup of TDS
Tenancy
Tenancy Management Dates
TenancyDeposit - Tenancy Deposit Maintenance
TenancyDetail - Tenancy Notice Address Details
TenancyMarketing - Tenancy Marketing Details
TenancyPeriodic - Change Tenancy to Periodic
TenancyRenewal - Begin Tenancy Renewal Progression
TenancyUtility - Tenancy Utilities Maintenance
TenancyVacate - Begin Tenancy Vacate Progression
Tenant
TransactionList - Accounts Transaction List
WorksOrder - Works Order Maintenance
Areas needed to have Residential Sales
Appraisal
Board Management
BatchList
Branch
BulkArchiveProperty
Company
Contact
Customise Template
DiaryEvent
DocumentTemplate
ElectronicsSigning
Email
Followup
Group Settings
Letter
Logon
Management
Marketing
Property
Recurring Diary Event
Recurring Event
Reporting
Saved Search
Security Role
Security User
Viewing
Property Management
To enable property management:
Click Tools on the

main toolbar
On the

side menu, under

System Tools, click

System Administration
Click

Group Users
Click

Edit

next to the relevant user
Tick Property Management Enabled
Scroll down and click Save
This activates the lettings side of Alto, allowing landlords to be paid rent, fees taken etc. This gives users access to the accountancy functions within Property Management.
Note
This is a chargeable permission so if you are unable to Save, a warning message will appear to advise you that you don't have enough licences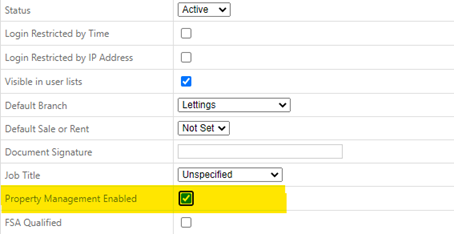 When Property Management is enabled, new reports become available to users who have that selected.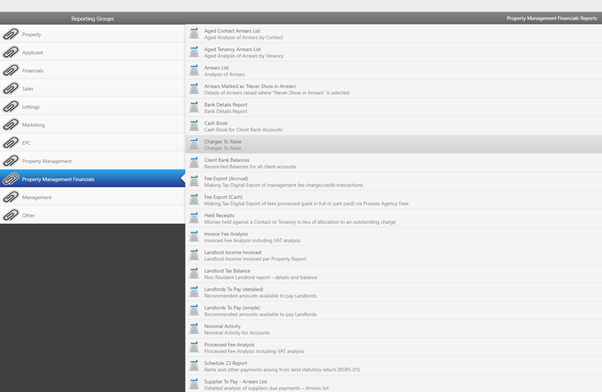 Report Tokens
Report tokens are set so only specific users can use the reports, and are assigned to a group role. Users who need to see a report need to be added to that group role - or if all users can see a report, the report can be set to not require a token.
By using tokens, all the reports for financials could go to one person, all the property management reports to another person and all the applicant reports to another.
For more information on Report tokens, click here
Report Categories
Property
Applicant
Financials
Sales
Lettings
Marketing
EPC
Property Management
Property Management Financials
Management
For more information on Running reports, click here
Report tokens are configured in two places:
Tools > System Administration > Reports - This is where the reports are linked to tokens




Tools > System Administration > Group Roles > Edit



Effective Permissions
This section lists all the permissions contained in the roles the user has been assigned. This is useful when a user may need different levels of access in different branches. Effective permissions would show that a user can customise templates in one branch but not in another branch.
Roles & Branches
Not all Alto set-ups have more than one branch, but where that is the case, roles can grant access to those branches. Sometimes virtual branches for the same office can be created, i.e. one for Sales and one for Lettings - this allows for separate branding.
Click Edit to bring up the page that defines which branches that particular role will have access to, and also what permissions they will have. A role can give access to all branches or limit to one, then an additional role can also define what level of access a user has
Note
Every branch must have an administrator assigned to it otherwise it is not possible to assign roles, permission and access to that branch
Roles are assigned on the user profiles within Group Users. A user can have more than one role if needed.